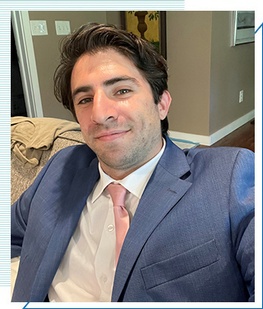 Andrew Kieffer
Director at Integra Marketing Agency - Sales & Marketing Company in Minnesota, Utah & Washington
Started : August 2020
Advice for someone new : My advice for someone new is honestly pretty simple but has helped me a tremendous amount. Take everyday 1 day at a time, your goal being to always better yourself by 1% each and everyday. There can be a lot to learn in any role as well as numerous obstacles to be taken head on and we all can reach a point where it's a challenge to move forward. But you can. Take everything in stride (one day at a time, one question at a time, one skillset at a time) and you will be astonished at what you can accomplish wherever you are.
Something interesting about yourself : I am always looking to get out on the Mountain, whether it's skiing or hiking. I am there first and the last to leave. I am that person who hates chocolate and coffee, but don't worry, it's okay because I will buy it for you instead. I am also undefeated in the board game Clue.
Favorite thing about your position: My favorite part of the position I am in is honestly how involved I can be in the lives of those around me. I have always been somebody who has taken great pride in being able to be there for others, and being a Marketing Manager allows me to now only be there but also help mentor everyone inside and outside the office.
Words to live by: "Mind over matter, pain is weakness leaving the body"
Best advice you've received in business : Business is like a rollercoaster, there are going to be high points and low points but what truly matters is how you react when you are at your lowest, as well as how you humble yourself when at your highest. There is always room to grow, especially when your back is up against a wall.
Your career goals in the next 1-2 years : In the next 1-2 years my goals overall are to reach a mark of 12 internal promotions as well as maintaining a high level of profitability that allows me to achieve my others goals such as: Opening up an office for my 5 retailer market in Duluth MN, paying off both my mom's expenses, as well as my brother's medical expenses. My goals can vary between Career and Personal but being there for those around me on both sides is what I set my sights on.